Training unmanned aerial vehicle М-22D "Aerotester"
Purpose: training, for external pilots training; "flying laboratory"; execution of aerial survey works.
Construction year: 2012.
First flight: 2012 year.
Patent: decision on granting a patent for utility model №18845/ЗУ/13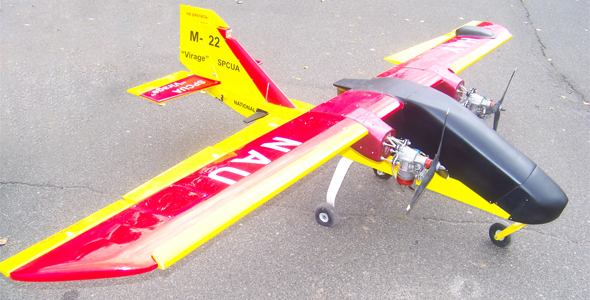 Technical characteristics:
wingspan, m – 3,08;
max. payload mass, kg – 8;
max. take-off mass, kg – up to 21;
power of engines, h.p. – 2 х 3,5= 7;
type of engines – two-cycle piston fuel engine;
max. speed of flight, km/h – 160;
max. height of flight, m – up to 5000;
range of action, km – 20*;
flight duration, h – 1**;
control modes – automatic/semiautomatic;
taking-off type – as an aircraft;
landing type – as an aircraft/using parachute.
* - it depends on the modem power.
** - flight duration can be increased to 5 hours by increasing fuel tank.
The base of construction puts together the results of researches of external pilots study and other staff for UAVs of civil aviation and need for relatively cheap means of lifting on height of experimental aviation devices and systems.