Mobile unmanned aerial complex M-56 «Module»
Purpose: video surveillance in the real time, patrolling of planar objects.
Construction year: 2017.
First flight: 2018 year.
Status: factory testing of a prototype.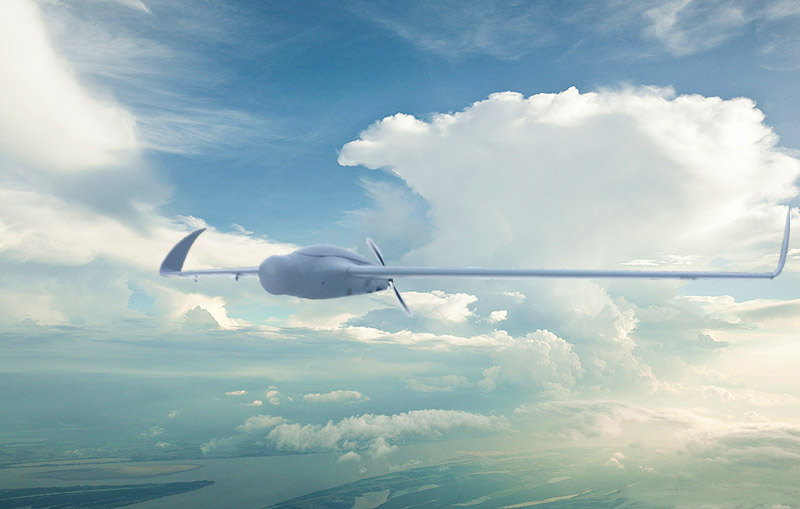 M-56 «Module» is designed for video surveillance/photographing of objects from the air. Duration of flight - up to 240 min. using lithium-polymer batteries. Control mode - automatic/semi automatic. UAV is equipped with a color camera with a digital transmitter. The aerodynamic scheme is "flying wing" of great elongation.
Technical characteristics:
maximum takeoff weight - up to 15 kg;
payload mass - up to 4 kg;
flight duration - up to 240 min.*;
length of the route - up to 250 km;
cruising speed - 75 km/h.;
maximal flight speed - 130 km/h.;
recommended flight altitude - 600-800 m;
maximal altitude - up to 3000 m*;
type of control system - automatic/semi automatic, flight planning using Google maps;
type of data transmission lines - digital;
resolution camera - 1920x1080;
processing of video - protocol H.264;
min. illumination - 0,001 Lk;
start - from hand/with a rubber shock absorber;
landing - under parachute;
range of action - up to 70 km;
flight restrictions - local wind speed should not be more than 17m/s;
* - flight height and duration are taking from ISA.